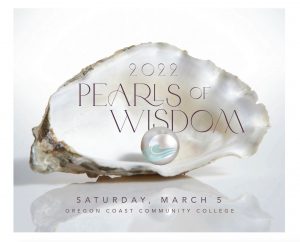 March 5, 2022  |  5-6:30pm  |  A Live Virtual Event
---
Registration is now closed.
Join OCCC students and faculty for a fun, engaging event supporting the College
Your $75 admission includes …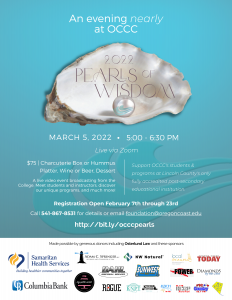 • A scrumptious Charcuterie Box or Hummus Plate from the Side Door Café
• Wine or Beer
• Dessert from My Petite Sweet
• A Lively and Interesting Program
The virtual program will be accompanied by appetizers catered by Side Door Café. The program will consist of student experiences, Foundation insights, and more.  All funds raised support local access to quality education through scholarships, program equipment, and faculty development.
Virtually visit the Community College's science department, learn about OCCC's technological advances allowing students to attend class virtually during the pandemic, and meet some of the students who directly benefit from the OCCC Foundation — all from the comfort of your own home.   
COVID-19 protocols require a virtual event allowing an unlimited guest list.  Join us as we share vignettes from various departments, testimonials from students, a message from OCCC President Dr. Birgitte Ryslinge, opportunities to support your local College and fun from our emcees Dave Price and Patrick Alexander.   
"I hope to see you at our fourth annual Pearls of Wisdom celebration.  In order to keep everyone safe, it will be a virtual event once again. Building on what we learn each year, we intend to make 2022 Pearls inspiring, fun and engaging, continuing some favored traditions along with new twists.  Each year Pearls has been more successful, and it is deeply inspiring that this evening of gathering together celebrating students has now contributed nearly $95,000 to support students and programs at OCCC.  As a continuing or new guest at Pearls, this is your chance to help even more students change the direction of their own lives, and of this community we all love."
With a ticket price of $75, guests will choose between two appetizer items from Side Door Café.  In addition, each will receive a bottle of wine from renowned vintners, or if your tastes prefer, beer from Rogue Brewery. Also included with your registration is a decadent dessert from My Petite Sweet. Food and drink will be available at Newport and Lincoln City OCCC locations and The Side Door in Gleneden Beach the day of the event.
This event is sponsored by Samaritan Health Services; Columbia Bank; NW Natural; Yaquina Law, LLC; Sunwest Honda-Mazda; Northwest Natural; Dahl Disposal Service; Osterlund Law; Local Ocean Seafoods; Oregon Coast TODAY; Power of Newport; Diamonds by the Sea; Rogue Brewery; US Foods Chef's Store; and Yaquina Bay Communications. Pearls of Wisdom is the leading fundraising event providing scholarships to Lincoln County students, support for OCCC academic programs, faculty enhancements, and educational materials. 
"Generous contributions to the foundation assisted with tuition and books while I was a nursing student at OCCC," said 2018 graduate Stacey Brewer-Dally, RN. "The scholarship made completing the Nursing program a little easier by not having to worry about how I would pay for the next term."  
Mark your calendars for Saturday, March 5, 2022, from 5 p.m. to 6:30 p.m. Sign up early.  Reservations close on Friday, Feb. 25
For more information, contact Andrea Spirtos at the OCCC Foundation office, 541-867-8531, or visit the OCCC Foundation website at oregoncoast.edu/foundation/pearls-registration.
Pearls of Wisdom would not be possible without the support of our sponsors.  Please consider patronizing these businesses and thanking them for supporting local access to quality education.
If you would like more information, please contact the foundation 541.867.8531 or foundation@oregoncoast.edu.