Pearls of Wisdom Returns!
Live, via Zoom | Appetizers, Desserts & Wine or Beer Included | All Proceeds benefit the OCCC Foundation |
Tickets Sold Out
The Oregon Coast Community College Foundation invites Lincoln County residents to its 3rd Annual Pearls of Wisdom event on Saturday, March 6, 2021.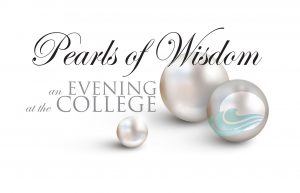 Virtually visit the Community College's Newport Campus Education and Early Childhood Development departments, "tour" the Aquarium Science building, "visit" the North Campus Simulation Nursing Lab and "meet" our interactive mannequins, and "experience" the Toledo Welding Program — all from the comfort of your own home.
COVID-19 protocols require a virtual event allowing an unlimited guest list.  Join us as we share vignettes from the various departments, testimonials from students, a message from OCCC President, Dr. Birgitte Ryslinge, opportunities to support your local College and fun from our Emcees Dave Price and Patrick Alexander.
"I so hope you can join us for our third annual Pearls of Wisdom celebration," said President Ryslinge. "Next to commencement, this is my favorite event of the year, because it celebrates the amazing connections between students and those who help them realize their dreams. While we won't be face-to-face this year, I promise it will be inspiring, fun, informative and will above all celebrate learning and giving.  Due to the generosity of our Pearls event sponsors, you can also rest assured that the value of the tickets you purchase will go directly to helping students.  It's been quite a year for Oregon Coast Community College and I'm looking forward to raising a glass of celebration with you all at Pearls, along with raising my paddle for student support."
With a donation of $75, guests will choose between two appetizer items from Side Door Café.  In addition, each will receive a bottle of wine from renowned vintners including Stoller, Domaine de Nizas, Willamette Valley Vineyards, Trella, Varnum and Colene Clemens or, if your tastes prefer, beer from coastal brewers including Wolf Tree, New Spring, and Rogue breweries. Also included with your registration is a decadent dessert from My Petite Sweet.
Sponsored by Samaritan Health Services; Columbia Bank; Georgia Pacific; NW Natural; Yaquina Law, LLC; Sunwest Honda-Mazda, Toyota of Newport; Osterlund Law; Cathleen Donnellan, CPA, MST; Annette M. Mulee; and My Petite Sweet, Pearls is the leading fundraising event providing scholarships to Lincoln County students, grants for OCCC's programs and faculty enhancements and educational materials.
As OCCC graduate, Class of 2018, Stacey Brewer-Dally, RN stated, "Generous contributions to the foundation assisted with tuition & books while a Nursing student at OCCC. The scholarship made completing the Nursing program a little easier by not having to worry about how I would pay for the next term."
Mark your calendars for March 6, 2021, from 5 p.m. to 6:30 p.m. Registration opens Wednesday, Feb. 3.  Sign up early.  Reservations close on Wednesday, Feb. 24.
For more information, contact Andi Spirtos at the OCCC Foundation office, at 541-867-8531, email Andi,  or visit the OCCC Foundation website at foundation@oregoncoast.edu/pearls-registration.
See you on March 6!