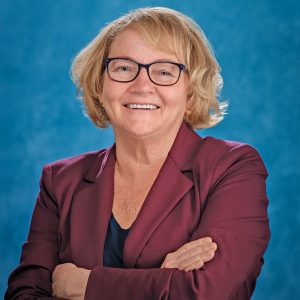 Dr. Ryslinge is the president of Oregon Coast Community College serving Lincoln County, encompassing 1,200 square miles of land, lakes, rivers and bays, and 73 miles of beautiful coastline on the Pacific Ocean.
Due in a large part to the geographic, ecological and meteorological diversity, this area is rapidly becoming a nexus for STEM‐based industry and research in the region. While OCCC is one of the smallest community colleges in Oregon (annual headcount 1,800) it serves a vital role in this community.
Dr. Ryslinge is a dynamic community college leader with 20 years of community college experience and progressive leadership in academic affairs and instruction, first in California and now in Oregon. She has also taught (full‐time and adjunct) in the subjects of psychology, management and leadership. Previous leadership positions were interim campus presidencies at two large campuses of Portland Community College (PCC), Dean of Instruction for PCC, and Dean of Academic Services and Economic Development for Las Positas College in Livermore, California.
She enjoys working with the external community to advance the role and position of the community college and has been very successful in that capacity developing important relationships and resources.
Throughout her time in education she has been closely involved with workforce and economic development, and partnering and advocacy with external stakeholders including industry, other education (K‐12 and other post‐secondary) and elected officials. Before focusing her career in community colleges, Dr. Ryslinge worked for 10 years in industry and this prior experience (corporate and small business) also informs her approach to student success, learning, innovation and entrepreneurship. Dr. Ryslinge is a native of Denmark who immigrated to the United States as a child with her family. She speaks Spanish and Danish, and enjoys traveling, gardening, reading, cycling and hiking.