Foundation launches raffle featuring 'Ella Salmonella,' created by Michael Gibbons
Oregon Coast Community College is the home of the OCCC Sharks, but on campus this fall, everyone seems focused on salmon.
This isn't simply because of the upcoming fall Chinook run – instead, it's the buzz surrounding Ella Salmonella, a 40-inch fish sculpture on a wood and rock base. Ella was created by world-renowned artist Michael Gibbons, and was donated to the College this spring by his widow, Judy Gibbons.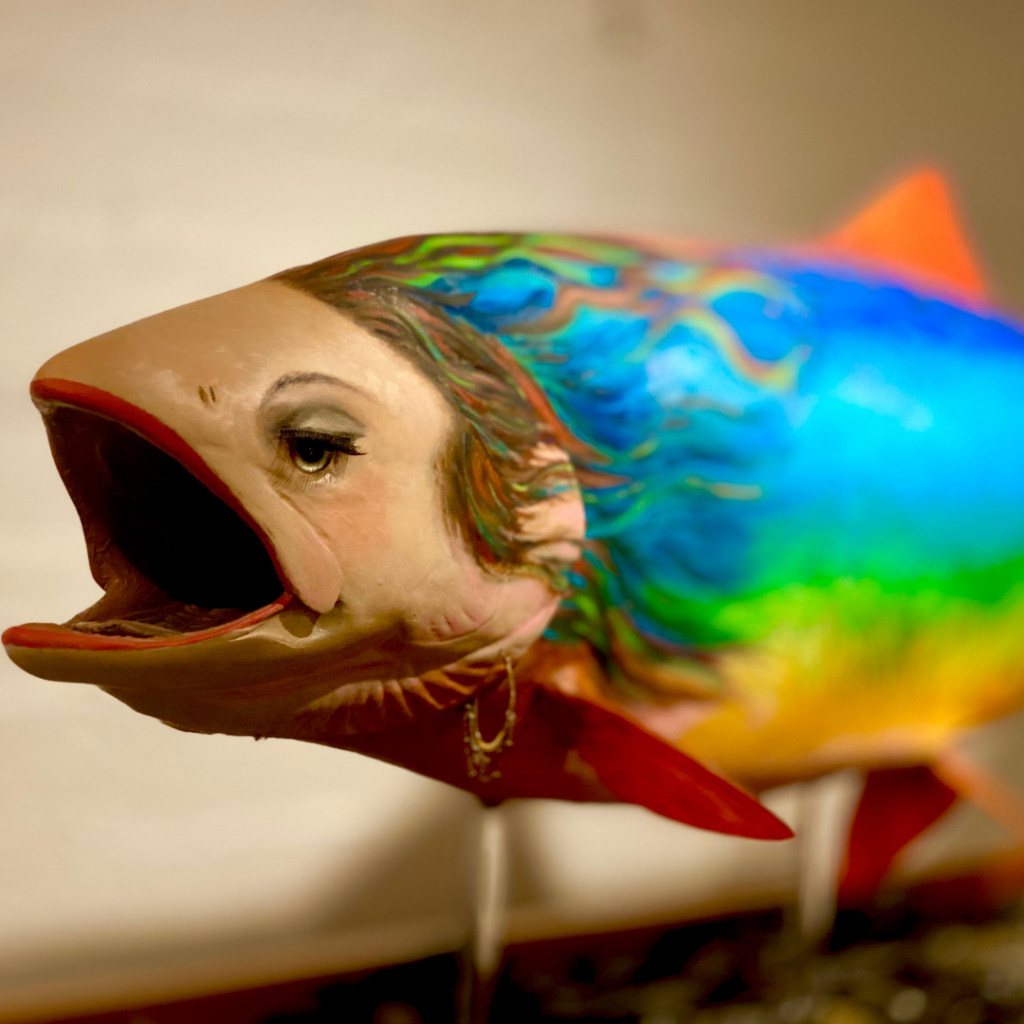 The Oregon Coast Community College Foundation is selling raffle tickets for Ella. Only 250 tickets will be sold, at $100 each – and all proceeds will support the Foundation.
The mission of the OCCC Foundation is to advance educational opportunities by raising funds for college needs while increasing public awareness of the College and its many benefits. Proceeds from the raffle will be used for student scholarships, grants to faculty for continuing education particularly in the areas of equity and inclusion, and program development as exemplified by the new bariatric suits purchased by the Nursing Department thanks to a gift from the Foundation.
"Ella may currently be viewed in person in the Commons at OCCC's Central County Campus in Newport," said Andrea Spirtos, Executive Director of the Foundation. "Dressed to be the head of her class and ready to impress her school mates, Ella dons a pair of earrings and lipstick. Quite the fashionista!"
Tickets are available from the OCCC Foundation website. The winning ticket of the Ella raffle will be drawn on Oct. 28, 2021, during the annual OCCC Donor/Scholar Reception. Need not be present to win.
"Judy, the opportunity to own one of Michael's pieces is truly an act of beneficence for which I am personally exceedingly grateful," Spirtos said. "Michael was a much-loved artist. His memory will live on wherever Ella lands."
Spirtos added that any potential Foundation supporters who may be considering purchasing a chance to own Ella, but who are concerned about where she may sit in their home or business, may consider donating the sculpture back to OCCC in their name as a donation to the Foundation. "We hope Ella will grace our winner's home or office but, rest assured, she will always have a home at OCCC, where she may be admired for generations to come," she said.
View more of Michael Gibbons' work at the Michael Gibbons Signature Gallery, at 140 NE Alder Street in Toledo. Reach the gallery at 541-336-2797.
Purchase your raffle tickets online, any time, here. Or, to purchase by phone or to learn more about the Foundation and how you can support local community college students and programs, call Andrea Spirtos at 541-867-8531, or email her at andrea.spirtos@oregoncoast.edu.