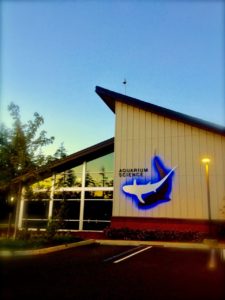 Aquarium Science Program Cost Analysis
Before applying to our aquarium training school, prospective students may wish to take a practical approach and determine approximately how much they'll need to invest to train for a career working with fish and invertebrates. This information is essential for financial planning, applying for grants and loans and weighing the feasibility of pursuing a two-year Associate's Degree in Aquarium Science, a one-year Certificate in Aquarium Science or a four-year Bachelor's Degree in Aquarium Science. As this is a hands-on technical program with its own Teaching Aquarium, the costs of any of these paths are not inexpensive but they are still quite affordable with or without any additional financial assistance.
A Detailed List of Aquarium Training School Costs
We've compiled term-by-term listings of the two most common AQS Program paths, complete with course and program fees by class, in-state and out-of-state tuition and totals:
Train for a Career Working with Fish, Corals and other Invertebrates
While the costs of earning an associate's degree, certificate or bachelor's degree in aquarium science at our aquarium training school are not insignificant, AQS students quickly realize the value of their tuition and the scope of the education they're investing in. They also gain a much deeper understanding and appreciation of the real costs of operating a public aquarium or similar facility and why tickets to tour and enjoy these facilities must reflect day-to-day expenses for food, electricity, climate control and other expenditures. Our students also recognize the value of the individual instruction they receive from a dedicated team of educators and industry professionals that teach lectures and labs and go above and beyond to make themselves available in and out of scheduled classes. Factor in this and all the other aspects of this unique and immersive aquarium training program and the value of this education perhaps becomes most apparent when students receive their first job offer and the one after that and the opportunities that follow thereafter.
How to Apply
The application period for the 2022-23 school year is now open and will close end of day March 18, 2022.
Begin your application process here, please read all instructions carefully. Prospective students must first apply to OCCC and then use their student number and email in the Aquarium Science application process.
---
Our Staff
---
Our Facility
Click here
to take a look at the Aquarium Science Program's state-of-the-art facilities.