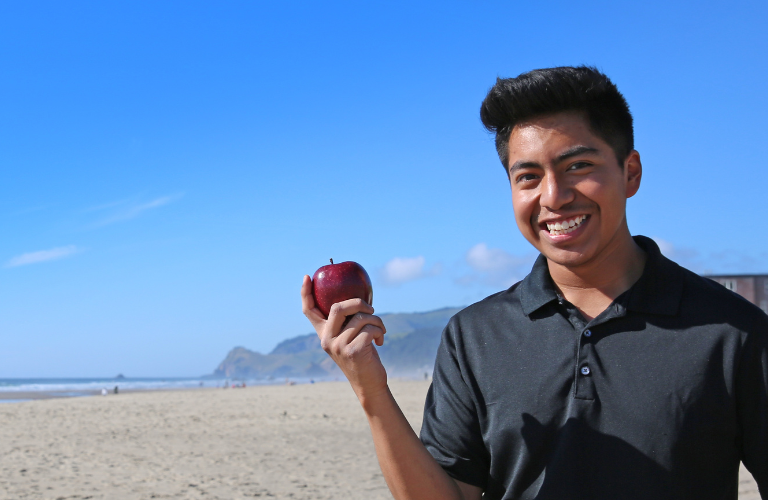 Introduction
The Rural Teacher Education Pathway allows students from Lincoln County who are interested in becoming elementary school teachers to complete the first two years of a Bachelor of Science in Education at Oregon Coast Community College and then transfer to Western Oregon University or Oregon State University with junior standing and all Education pre-requisites met. Students transfer to complete the third year before returning to the Coast to complete their fourth year of study – including licensure and student teaching.
4-Year BS Degree in Teaching
Early Childhood/Elementary & Elementary/Middle School Teacher Transfer Program
Teaching is one of the most rewarding, yet challenging careers you can choose. Teachers make a difference in the lives of students – to help them learn to read, solve a math problem, or discover how plants grow. Elementary and middle school instructors introduce students to language, science, mathematics, social studies, the arts, and physical education. (Students interested in high school teacher transfer pathways should speak with their OCCC and Western Oregon University advisors.)
Overall employment of kindergarten and elementary school teachers is expected to increase over the next decade to replace an aging teaching workforce. Science, math, special education, and bilingual teachers will be in great demand.
What's new 
Students now have the degree option of a transcript visible Associates of Arts Oregon Transfer – Elementary Education (AAOT-ElemEd). This shows that elective coursework was completed in Education prerequisites. It is also accepted by Western Oregon University, Oregon State University (Corvallis and Cascades campuses), Southern Oregon University and Eastern Oregon University teacher licensure programs as meeting prerequisites for entry into the Junior year.
New courses
Fall term ED 100 Education Careers: explore the wide variety of careers available to support child and adolescent success.
Spring term ED 290 Education Practicum: complete required practicum hours and experience in a Lincoln County School District (LCSD) K-12 classroom. Practicum hours are required for entry into University licensure programs
Transfer degree options:
WOU – the Early Childhood/Elementary Education BS degree option is now a smooth pathway. OCCC students complete the AAOT-ElemEd before transfer. Junior level courses are taken through a mix of on-campus, online, and hybrid courses. The senior year student teaching experience can be completed in a Lincoln County school.
OSU – Oregon State University has launched a hybrid 2+2 program in Clinically Based Elementary Education. Students complete the AAOT-ElemED before transfer and junior level coursework through a mix of online and hybrid coursework. Junior and Senior level courses can be completed with limited travel outside Lincoln County. The senior year student teaching experience can be completed in a Lincoln County school.
Additional transfer opportunities for students interested in Early Childhood Special Education or Elementary Special Education are also available through Western Oregon University and Linfield University. 
Transferable Credits
Students can earn credits towards an Associate degree, which they can then transfer to their University. Education classes can be applied toward the Associate of Arts Oregon Transfer Degree (AAOT) or the specialized AAOT-Elementary Education.
What's Next?
Complete the steps for new students, on the Start Here page
The admissions form will ask you what you plan to study. Since we don't offer a degree or certificate in this subject, you should choose Associate of Arts – Oregon Transfer (AAOT) for now.
Plan how you'll pay for college
Review Tuition & Fees here. Then, review our Financial Aid page.
Plan your transfer
Registration is now open for these programs. To learn more, make an appointment with a Student Success Coach by visiting the advising page.
*Program development was supported in part by funding from Meyer Memorial Trust through their Equitable Education Portfolio and through a collaboration with Lincoln County School District
Disabilities
Oregon Coast Community College is committed to providing equal opportunities for students with disabilities throughout the College community. Students with documented disabilities are entitled to reasonable accommodations under Section 504 of the Rehabilitation Act of 1973 and the Americans with Disabilities Act of 1990. Our philosophy is to maximize your independence and self-reliance, providing a variety of support options to assist you in achieving your educational and/or vocational objectives. To receive services, you must submit documentation of your disabling condition(s) to the Vice President for Student Affairs. To initiate support services, please contact the Vice President for Student Affairs at 541-867-8511 or  Dr. Andres Oroz. Students are responsible for requesting, in a timely manner, accommodation and documenting the nature and extent of their disability.
Equal Opportunity and Non-Discrimination
The College prohibits unlawful discrimination based on race, color, religion, national origin, sex, marital status, disability, veteran status, age, sexual orientation, or any other status protected by federal, state, or local law in any area, activity or operation of the College. The College also prohibits retaliation against an individual for engaging in activity protected under this policy, and interfering with rights or privileges granted under anti-discrimination laws. In addition, the College complies with applicable provisions of the Civil Rights Act of 1964 (as amended), related Executive Orders 11246 and 11375, Title IX of the Education Amendments Act of 1972, Section 504 of the Rehabilitation Act of 1973, Americans with Disabilities Act of 1990 (as amended), Uniformed Services Employment and Reemployment Rights Act ("USERRA'), and all local and state civil rights laws. Under this policy, equal opportunity for employment, admission, and participation in the College's programs, services, and activities will be extended to all persons, and the College will promote equal opportunity and treatment through application of this policy and other College efforts designed for that purpose.
Persons having questions about equal opportunity and nondiscrimination should contact either: 
Vice President for Student Affairs, Dr. Andres Oroz or Human Resources Manager Joy Gutknecht
Questions can also be mailed to their attention at:
400 SE College Way, Newport, OR  97366.