Announcements:
Updated 20 April 2021
---
Earth Day April 22, 2021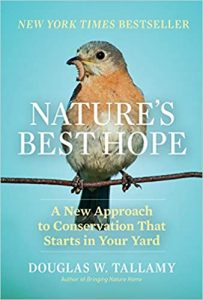 Everyone can make an effort to repair and protect habitat.  You can do a little, or a lot!  Please click on the book covers above for more information.  To request a hold from the OCCC Library, please email us at:  library.services@oregoncoast.edu.
---
Lincoln County Reads 2021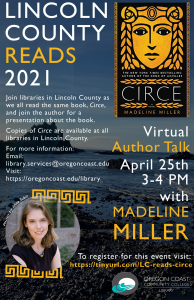 Join us as we read Circe with our community and then hear the author Madeline Miller as she discusses the book in a virtual Author Talk on April 25th!
Contact us at library.services@oregoncoast.edu to reserve a copy of the book now!
Then click HERE to register for the free author presentation on April 25th at 3pm!
---
Library Spaces & Services During the Term:
The Library Study Rooms will be open Mon – Thur from 8am – 5pm.  The doors will be unlocked at 8am.  Only one person allowed per small room and 2 people in the Group Study Rooms.  When you leave the room, lock the door, and flip the sign around, so our cleaning staff know that the room needs to be serviced.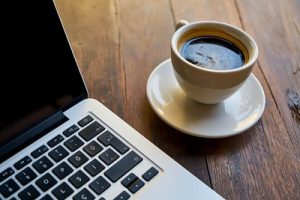 The Main Library will be closed this term, but you may place a hold on any of our items and pick them up at the Library Services window, or a nearby public library.  Contact us at library.services@oregoncoast.edu for more info!
If you need a Chromebook, laptop, calculator, or camera please email the library to get more information and to reserve them. library.services@oregoncoast.edu
We are circulating materials, even though the Library itself is not open.  Simply find something in our online catalog, request to pick it up here at OCCC and we will pull the items for you.  The items will be available at our Library Services window, Mon-Thurs. 
http://www.chinooklibraries.org
---
April is Autism Acceptance Month! Please join Dana Gallup, Student Support Specialist and members from the Equity & Inclusion committee in a two-session learning circle on autism, allyship, and acceptance. We hope for this discussion to foster strategies for supporting our autistic students and community members. Bring your thoughts and questions! No homework required!
Coming Soon!  Email us at library.services@oregoncoast.edu to reserve your copy when it arrives!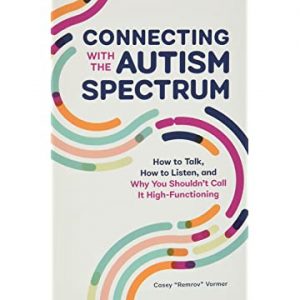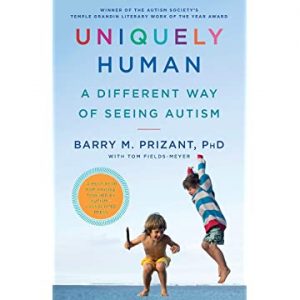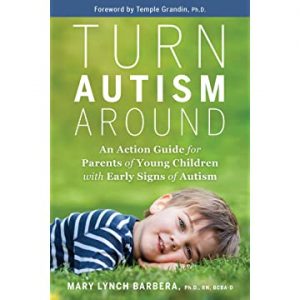 ---
April is National Poetry Month
Visit the Library of Congress virtually, as they celebrate poetry and literature every month:  Click HERE.
Or check out these books of poetry from the OCCC Library (contact us at library.services@oregoncoast.edu to reserve)
___________________________________________________________________

Kanopy for Faculty and Students:
Faculty and Students are welcome to use our new streaming video, Kanopy.  For passwords and more information, contact Library Services at library.services@oregoncoast.edu
---
Taft Dual Credit Writing Students:
Search the Online Catalog! Click below!