To turn on Multi-Factor Authentication, first you log in to your account through a Web browser to https://portal.office.com, and click "View Account" in your profile:

In your account settings, click on "Security Info", and then click on "Add sign-in method":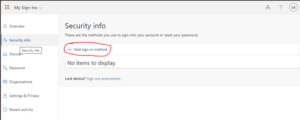 The method that I suggest is the Microsoft Authenticator App. It's a free download from the Microsoft Store or Apple Store on your Android or iPhone.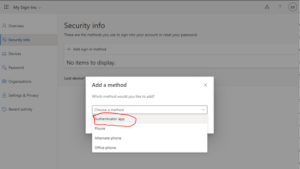 There's a link to get the app in the online process. Follow the instructions on your phone.

Once the app is installed, you'll be instructed to create a new "Work or school account" on the app. Then, on your computer, there will be a QR code to scan to set up the app: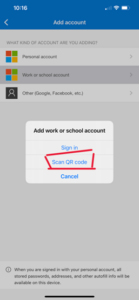 (Below is a picture of my phone scanning the QR code, with the code itself marred for security reasons.)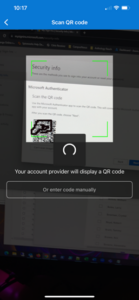 The authenticator app will then handshake with your account settings through Microsoft, and approve the new MFA link.

The next time you sign into your email, or use Anthology, or log into Canvas (all of which use the Microsoft security system for authentication), you'll get a time-sensitive sign-in request like this: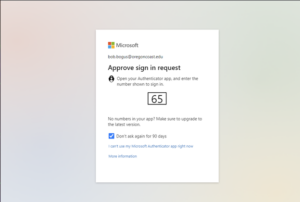 When you open the Microsoft Authenticator App on your phone, there will be a prompt to enter this number, and the app will also scan you for facial recognition (or require your PIN, or your fingerprint, whatever your phone's authentication method is.) Then you're in!