Program Spotlight
Nursing Program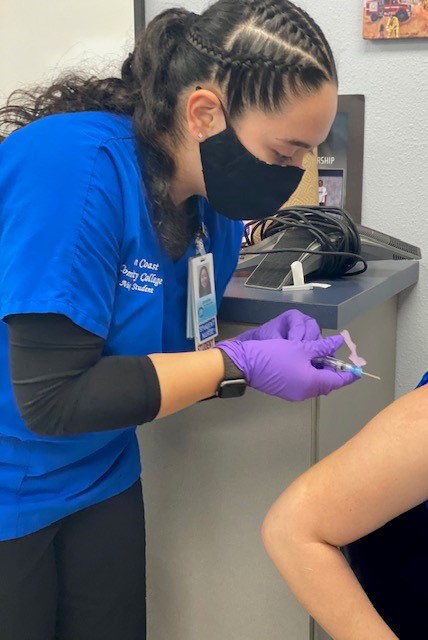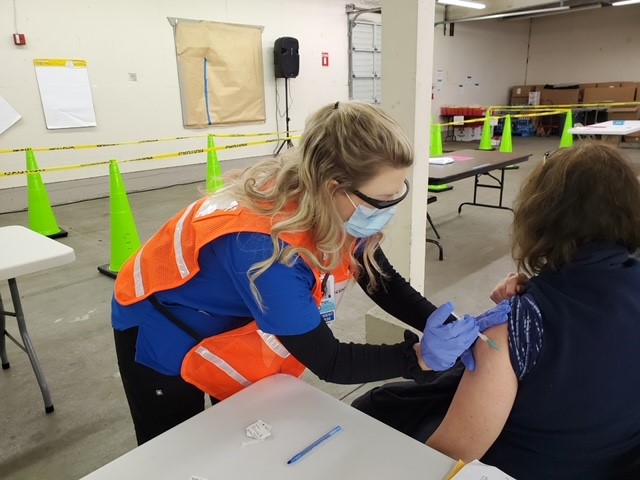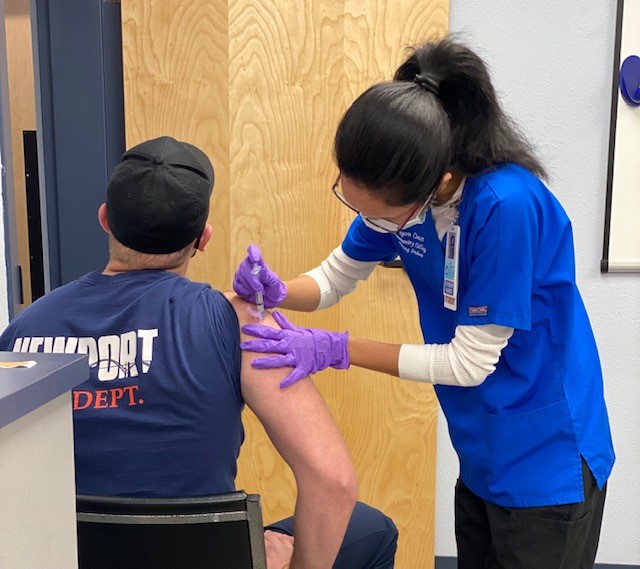 One of OCCC's largest programs is the Nursing Department. It is also one of the most competitive in terms of admittance. Dr. Crystal Bowman, Ph.D., RN, MSN-Ed., CHSE, CNE, CNE-Cl explains . . .
In May 2004, Lincoln County voters passed a $23 million bond measure for the construction of permanent campus buildings for the College. In 2006, prior to the construction of the three OCCC facilities ( Lincoln City in July 2008; Newport in June 2009 and Waldport in August 2009) the Nursing Program began. It now occupies a portion of the top floor in a wing of the Newport Campus with state-of-the-art classrooms and simulation labs and a skills lab at the Lincoln City Campus that is used primarily for the Medical Assistant and EMT (Emergency Medical Technicians) Programs. This lab is currently being expanded to allow for an equitable learning experience to that of our Newport facilities. Once this is completed nursing program courses will also be held in Lincoln City, Oregon.
The Nursing Program offers a career ladder curriculum with two occupational options: a three-term Practical Nursing Certificate and a six-term Associate of Applied Science Degree in Nursing. Although the program offers the Practical Nurse option, thus far the majority of students continue to pursue the Degree option. However, the option makes it possible for students to exit with a career option when their lives dictate a change. It also allows for OCCC Licensed Practical Nurses (LPNs) and those educated elsewhere to enter into the second year of the program based on qualifications and available space. Completion of the nursing program prepares nursing students to sit for the National Council of State Bards of Nursing (NCLEX) exam which is one of the final steps in transitioning to the role of the Practical Nurse or Registered Nurse.
Admittance to the program is based on a point system that is quite competitive. A cohort of only 28-30 students is admitted each fall.
One of our goals for the future is to increase enrollment. We are limited due in part to the number of instructors. We currently employ four full-time nurse educators, and three part-time nursing faculty. I have been in this role since August of 2021 and also teach within the program during each term. All of our faculty are energetic, hard-working, willing to try educational innovations, and most importantly, committed to student success.
We are fortunate to have a supportive college administration who are committed to upholding high standards in the nursing education program, a career-ladder curriculum that utilizes performance-based outcomes to educate nurses and supportive community partners. In fact, our partners often refer students to us. Some students have attended other healthcare programs and return to complete the nursing program.
Social media outreach, including Facebook and Instagram specifically for the Nursing & Allied Health students and alumni, helps us inform potential students of the opportunity to enter the field of nursing through an OCCC degree or certificate.
In addition to increasing enrollment, in the future we plan to implement revised courses and clinical outcomes; resume the transition program from LPN to Registered Nurse (RN); and transition to more concept-based curriculum.
I wanted to be a nurse since I was a child. My great-grandma and my great-aunt are both nurses and I wanted to be just like them when I grew up. For me, it is a passion and I see that in many of our students.
If you asked a student what the biggest challenge is to the Nursing Program, they would undoubtedly say, "time management." Nursing school is essentially a full-time commitment. The balance between school, studying, work and home life is often a struggle. Most students quickly find that balance and get into a routine that works for them and allows them to be successful.
Another challenge is the cost. The program is expensive but with the assistance of our community partners like Pacific Communities Health District, Samaritan Health Services, Samaritan North Lincoln Health Auxiliary, the Confederated Tribes of Siletz Indians, private donations through the OCCC Foundation, and others we are able to maintain and purchase state-of-the- art equipment and provide many scholarships for students.
Our program is life-changing. I think that every student is a success story in some way: the student who entered the college as a High School Nursing Assistant student who goes on to complete the Nursing Program; the first-generation nursing student whose parents are immigrants, and they are the first to attend and graduate college; the student who speaks English as a second language and can describe in detail how she translates information in her brain to make it make sense within the program; the students who decided to change careers later in life or who put their families first and dreams second but later returned to college to achieve their dream of coming a nurse.
All of these are success stories not just for the student, but for a community.
Thank you, Crystal. The next time you visit a doctor or hospital and see a nurse, ask where they received their medical training. Many attended OCCC. Your donation to the OCCC Foundation for scholarships can help more students realize a dream. For additional information, contact Andi Spirtos at andrea.spirtos@oregoncoast.edu.