Associate of Applied Science in Nursing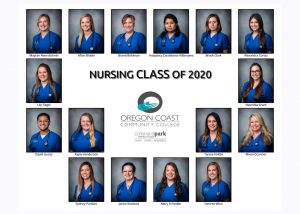 This two-year degree is a combination of nursing and transfer credits. For more information, please look under the "Additional Information" tab. This Associate Degree qualifies you to take the National Council Licensure Exam (NCLEXLRN) to become a Registered Nurse (RN).
The OCCC Foundation offers several scholarships specifically for students accepted into the nursing program.  Continuing nursing students and those who have applied for acceptance into the next cohort are encouraged to apply for these scholarships.  Learn more about OCCC Foundation Scholarships here.
Oregon Coast Community College (OCCC) has co-enrollment agreements with Linfield College, George Fox University, and the OCCC Nursing program to give students graduating from our program an opportunity to pursue a Bachelor's in Nursing degree. The Co-Admission Agreements between Linfield College, George Fox University, and OCCC facilitates student progression from the Associate of Applied Science degree program to the Bachelor of Science degree program (RN to BSN) through consistent program communication, curricular coordination, and focused academic advising. Collaboratively, we are promoting successful undergraduate educational experiences for our nursing students.
For additional information, consult the Linfield website or the George Fox website.
Contact us for Additional Information
Vickie Jones-Briggs
Administrative Assistant - Health and Human Service Programs
Contact
Phone: 541-867-8548
Disabilities
Oregon Coast Community College is committed to providing equal opportunities for students with disabilities throughout the College community. Students with documented disabilities are entitled to reasonable accommodations under Section 504 of the Rehabilitation Act of 1973 and the Americans with Disabilities Act of 1990. Our philosophy is to maximize your independence and self-reliance, providing a variety of support options to assist you in achieving your educational and/or vocational objectives. To receive services, you must submit documentation of your disabling condition(s) to the Director of Student Services. To initiate support services, please contact the Dean of Students at 541-867-8511 or Chris Ousley. Students are responsible for requesting, in a timely manner, accommodation and documenting the nature and extent of their disability.
Equal Opportunity and Non-Discrimination
The College prohibits unlawful discrimination based on race, color, religion, national origin, sex, marital status, disability, veteran status, age, sexual orientation, or any other status protected by federal, state, or local law in any area, activity or operation of the College. The College also prohibits retaliation against an individual for engaging in activity protected under this policy, and interfering with rights or privileges granted under anti-discrimination laws. In addition, the College complies with applicable provisions of the Civil Rights Act of 1964 (as amended), related Executive Orders 11246 and 11375, Title IX of the Education Amendments Act of 1972, Section 504 of the Rehabilitation Act of 1973, Americans with Disabilities Act of 1990 (as amended), Uniformed Services Employment and Reemployment Rights Act ("USERRA'), and all local and state civil rights laws. Under this policy, equal opportunity for employment, admission, and participation in the College's programs, services, and activities will be extended to all persons, and the College will promote equal opportunity and treatment through application of this policy and other College efforts designed for that purpose.
Persons having questions about equal opportunity and nondiscrimination should contact either: 
Interim Dean of Students, Chris Ousley  or Human Resources Manager Joy Gutknecht  
Questions can also be mailed to their attention at:
400 SE College Way, Newport, OR  97366.