Winter '23 Small Business Workshops
Paid Leave Oregon & OregonSaves … explained!
OregonSaves
Beginning July 31, 2023, Oregon businesses without an existing workplace retirement savings option will be required to facilitate OregonSaves, Oregon's retirement savings program. OregonSaves ensures Oregonians have a simple and convenient way to save for their future at work. The program is free for employers and is simple to facilitate. Learn more at oregonsaves.com.
This hybrid presentation will provide a detailed overview of the OregonSaves program including how to register your business before the 2023 deadline, followed by time to answer questions from the audience.
Paid Leave Oregon
Paid Leave Oregon is a new program that allows individuals to take paid time off for many of life's most important moments that impact our families and our health and safety. This presentation is an opportunity for small businesses to learn more about the Paid Leave Oregon program. The virtual webinar will include a 20-minute overview presentation by a member of the Paid Leave Oregon team, followed by time for questions and answers.
9 a.m. to Noon • Thursday, March 2
Live at the OCCC North County Center in Lincoln City or join via Zoom
Register Here
Starting a Business in Lincoln County
The SBDC's "start-here" class for would-be business owners (aka "wantrepreneurs"), Doing Business in Lincoln County is a great workshop for anyone considering launching a business in this beautiful, seasonal, challenging, and rewarding market. You'll learn some of the fundamentals of Oregon Coast business ownership, as well as something about what it takes to be a successful owner of a small business.
INSTRUCTOR: WENDY LUDWIG
Thursday., Jan. 26 |  11:30am-1pm  |  Lincoln City  |  $20
Monday., Jan. 30  |  4-5:30pm  |  Newport  |  $20
Income Tax Basics
for Small Businesses
Even before the pandemic's wide array of grant and loan programs – which will pop up in many businesses' tax documents for years to come – there were numerous changes to the tax code that meant new challenges and opportunities for small business owners.  In this workshop, OCCC SBDC Business Advisor Wendy Ludwig (a CPA, certified in Oregon and California) will walk you through some of the basics you need to know. 
• Overview and Schedule C
• Self-employment tax
• Employee Retention Tax Credit
• Quarterly estimated taxes
• Avoiding common mistakes
• Tips for easier recordkeeping
• Where to find tax information
• Choosing a tax adviser
INSTRUCTOR: WENDY LUDWIG
This is a two-part class.
Mon, Jan. 23 & Mon., Feb. 6
4-5:30pm  |  $45
Live in Newport, and live-streamed to Tillamook Bay Community College SBDC Clients
Hiring and Payroll Overview
Thinking about or actually hiring your first employee? This workshop will help you understand some of the tax and workplace rules (state and federal) that you'll need to consider. It will also talk about some promising opportunities you may wish to pursue — including cost-saving programs that may be able to help cover the cost of your employee's first months. 
INSTRUCTORS: WENDY LUDWIG AND BETH HUTCHINSON
Tuesday, March 7 | 11am-12:30pm | Waldport |  $20
Register Here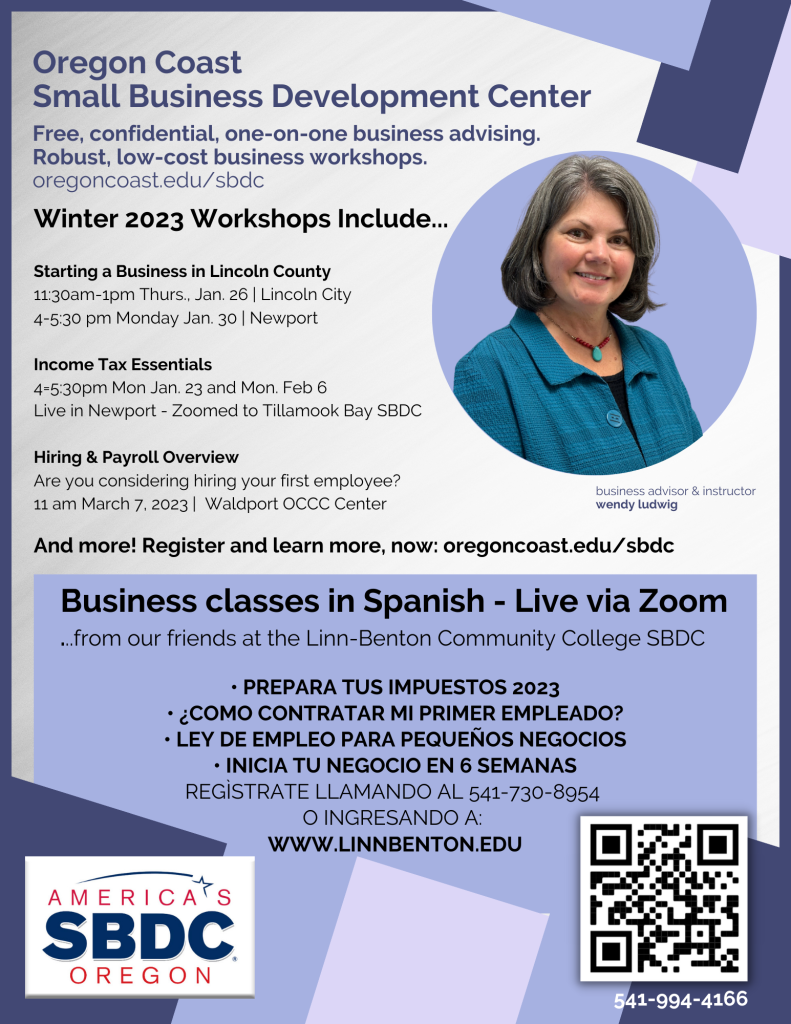 Looking for more?
Find more personal enrichment and professional development courses on OCCC's Ed2Go account! Study at your own pace or take courses scheduled for specific dates and times — all from the comfort of home!
Free, confidential, one-on-one business advising
Don't forget the core service the Oregon Coast Community
 College Small Business Development Center has delivered for more than three decades throughout Lincoln County: No-cost business advising, available to anyone, from longtime owners of established businesses to folks just considering starting their very first new business — and everyone in-between. Register here!
Sign up for our free newsletter!
Never miss a new workshop or event again! Click to register for our complimentary newsletter — it's the place that hundreds of Lincoln County businesses first learned of new grants and programs throughout the pandemic, and it'll be here for the next crisis/opportunity that comes along! Register here
Wendy Ludwig
Business Advisor
Small Business Development Center (SBDC)
BS Accounting, Linfield College CPA Oregon and California
Tonia Anderson
SBDC/NC Coordinator
Community Education, North Center, Small Business Development Center (SBDC)
SLPA, Chemeketa Community College
Contact
Phone: 541-996-6222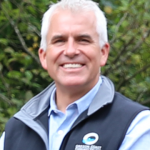 Dave Price
Vice President Engagement and Entrepreneurship
Administration, North Center, Small Business Development Center (SBDC)
MBA | Oregon State University '03
BS Journalism (Advertising Sequence) | University of Kansas '91
Disabilities Oregon Coast Community College is committed to providing equal opportunities for students with disabilities throughout the College community. Students with documented disabilities are entitled to reasonable accommodations under Section 504 of the Rehabilitation Act of 1973 and the Americans with Disabilities Act of 1990. Our philosophy is to maximize your independence and self-reliance, providing a variety of support options to assist you in achieving your educational and/or vocational objectives. To receive services, you must submit documentation of your disabling condition(s) to the Vice President of Student Affairs. Students are responsible for requesting, in a timely manner, accommodation and documenting the nature and extent of their disability.
Equal Opportunity and Non-Discrimination The College prohibits unlawful discrimination based on race, color, religion, national origin, sex, marital status, disability, veteran status, age, sexual orientation, or any other status protected by federal, state, or local law in any area, activity or operation of the College. The College also prohibits retaliation against an individual for engaging in activity protected under this policy, and interfering with rights or privileges granted under anti-discrimination laws. In addition, the College complies with applicable provisions of the Civil Rights Act of 1964 (as amended), related Executive Orders 11246 and 11375, Title IX of the Education Amendments Act of 1972, Section 504 of the Rehabilitation Act of 1973, Americans with Disabilities Act of 1990 (as amended), Uniformed Services Employment and Reemployment Rights Act ("USERRA'), and all local and state civil rights laws. Under this policy, equal opportunity for employment, admission, and participation in the College's programs, services, and activities will be extended to all persons, and the College will promote equal opportunity and treatment through application of this policy and other College efforts designed for that purpose. Persons having questions about equal opportunity and nondiscrimination should contact either:
Vice President of Student Affairs Andres Oroz
541-867-8511 or  andres.oroz@oregoncoast.edu
Human Resources Manager Joy Gutknecht
541-867-8515     joy.gutknecht@oegoncoast.edu
Questions can also be mailed to their attention at: 400 SE College Way, Newport, OR  97366. 
Schedule of Events - Nov. 18 Connect 2 Oregon event
Timing

Session Description

Agency

7:30am – 8:00am

Check-in and Continental Breakfast

 

8:00am – 8:10am

Welcome and Introductions

Oregon Coast Community College, SBDC

Dave Price,                                     VP of Engagement,                  SBDC Director

                  

 

8:10am – 10:40am

 

PUBLIC CONTRACTING 101

 

 

 

Go LIVE with OregonBuys! – Be found by Agency buyers and connect with contracting opportunities.

(20 minutes)

 

Tools and Resources at Your Fingertips

Certification Office for Business Inclusion & Diversity – Learn about Oregon Certification and why it's important (20 minutes)

Government Contracting Assistance Program – what is GCAP and how can they assist me?

(20 minutes)

SBA – Federal Certifications and Set Asides (15 minutes)

US Army Corps of Engineers
(15 minutes)

Facilitator: Kelly Stevens-Malnar

 

Presenters:

Kelly Stevens-Malnar

 

 

COBID

 

 

 

 

Dee Edwards

 

 

 

Joe Smetak

 

 

Carol McIntyre

10:40am – 10:45am

5 minute Break

 

10:45am – 11:20am

 

PUBLIC CONTRACTING 201

What are the public agencies buying? Where can you find the opportunities? Other programs or opportunities unique to the agency.

–  Oregon Department of Transportation (20 min total)

*Office of Contracts & Procurement

*Office of Civil Rights

–  Dept of Human Services & OR Health Authority (15 min)

–  Dept of Corrections (15 min)

 

Facilitator:

Dept of Administrative Srvcs

 

Presenters:

Holly Simpson

 

 

Greg Ivers/Local Program Staff

Craig Heilman

11:35am – 11:55am

 

11:55am – 12:15pm

 

 

12:15pm – 12:30pm

 

Statewide Disparity Study – How do you connect?

 

Running into red tape? Get help.

Secretary of State

 

Oregon Department of Revenue

Here to help!

Presenter:

Christopher Wilson

 

Trevor Leahy

 

Chris Cox

 12:30pm

Lunch – Catered

 

12:30pm – 1:15pm

LIGHTENING ROUND

hear the top three tips from each presenter! And then visit agency tables for more information and handouts

Facilitator:

Trevor Leahy