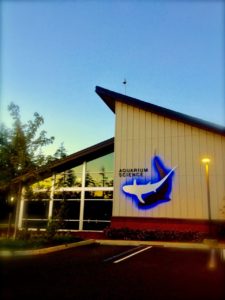 The AQS National Visiting Committee
The AQS Program at OCCC has earned our reputation by delivering technically skilled student aquarists with a strong foundational understanding of all aspects of aquatic animal care to public aquaria, research labs, marine science centers, fish hatcheries and other stakeholders for many years. Each year, a panel of these stakeholders visits our campus to review all aspects of our program and conduct interviews with our students while they train for a career working with corals, fish and other aquatic animals. They provide constructive feedback to students to improve their interviewing skills and provide feedback to program staff to help our program maintain our stringent standards and improve on them.
To illustrate the level of support the AQS program receives from our industry partners, NVC member visits are funded by their institutions, which have a vested interest in making sure that the quality of our graduates continues to meet the evolving needs of our industry. And these annual visits are not a vacation for NVC members. In just a few short days, committee members accomplish the following achievements and more:
An informal meet-and-greet with students at the beginning of the visit to let students and members get to know each other in a relaxed setting over food and beverages.
Attend two to three sessions of different classes to observe course instructors, the quality and quantity of material presented and occasionally, participate in class discussions.
Perform a thorough evaluation of the Teaching Aquarium to ensure students learn and work in an environment that exemplifies best practices for safety, biosecurity, cleanliness and animal husbandry.
Conduct mock interviews with students and provide detailed feedback to better prepare students for employment opportunities. In many cases, students are interviewed by the very hiring professionals who will interview them for openings on their teams at their home institutions.
An after hours mixer in the Teaching Aquarium, where students can show NVC members their assigned systems, answer their questions and talk about how they're able to apply what they're learning in the classroom.
Meet with members of the Program's Local Advisory Committee, comprised of stakeholders working in facilities closer to the OCCC campus, to compare observations of the program and discuss opportunities for future instruction and collaboration.
Meet with Oregon Coast Community College administrators so that they better understand the importance of the AQS Program to the industry and ways to build on the program's remarkable reputation for providing technically skilled and qualified candidates for jobs working with fish and other aquatic animals.
Prepare a detailed report with the committee's findings, including positive and constructive feedback on how to maintain our program's standards for excellence and build on them to meet the evolving and emerging needs of the industry. At the end of their visit, NVC members present this report to AQS faculty and staff.
The National Visiting Committee is another critically important aspect of the educational experience that helps prepare graduates of the Aquarium Science Program for their careers. The direct contact between students and program staff and the industry professionals on the NVC is invaluable and helps foster the unique collegial and professional environment that students enjoy while enrolled in the program and for the rest of their careers. To learn more about many of the institutions that provide members to this committee, please visit our Industry Partners page.
How to Apply
The application period for the 2022-23 school year is now open and will close end of day March 18, 2022.
Begin your application process here, please read all instructions carefully. Prospective students must first apply to OCCC and then use their student number and email in the Aquarium Science application process.
---
Our Staff
---
Our Facility
Click here
to take a look at the Aquarium Science Program's state-of-the-art facilities.