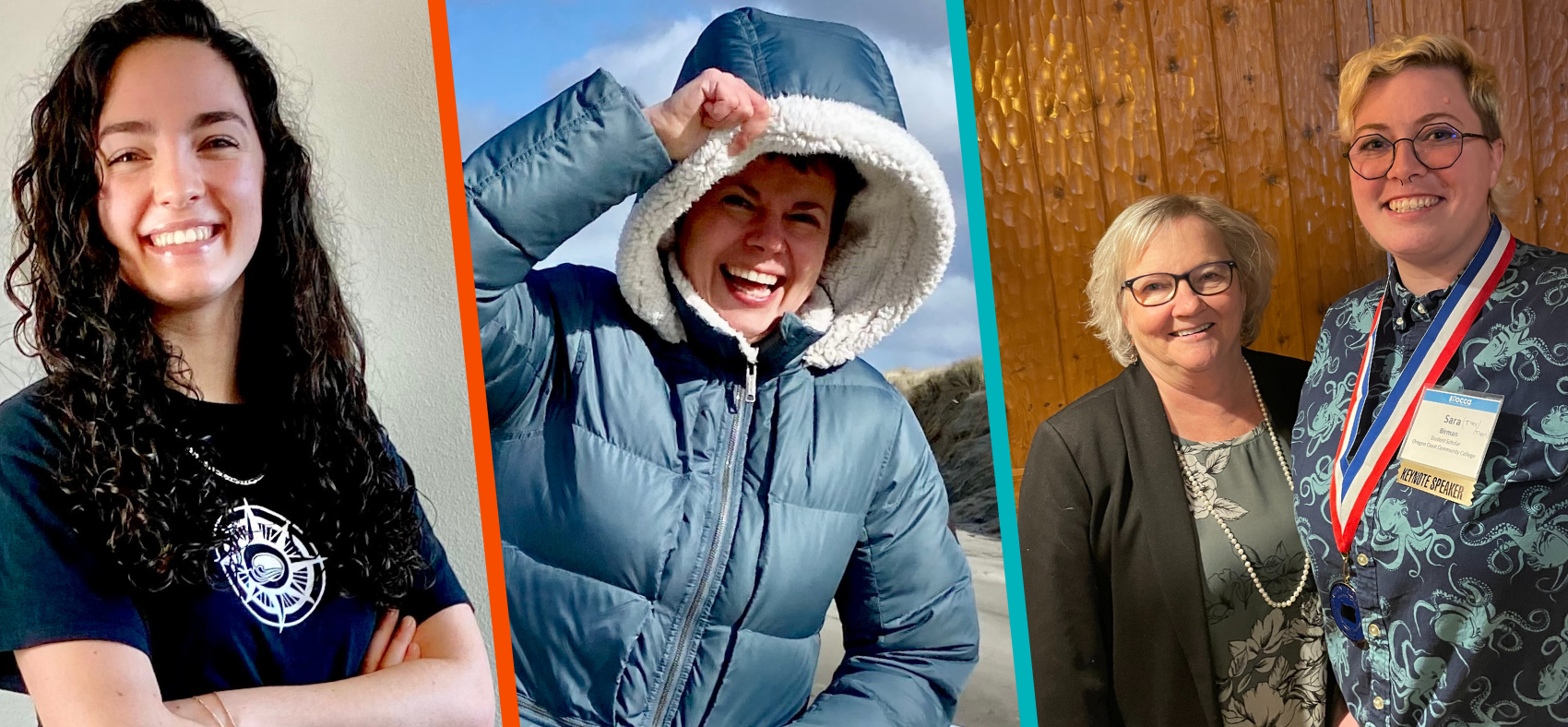 President's List honorees included, from left, Avery Nightingale (photographed this winter for an upcoming mailing to Lincoln County high school students), Katia Kyte (pictured at a March OCCC student government beach cleanup in Newport), and Sara Birman (pictured with President Birgitte Ryslinge, after being honored as a member of the All-Oregon Academic Team, on April 15, 2022, in Sunriver). 
OCCC Announces Student Honors for Winter Term 2022
Winter 2022 brought a return to in-person classes for many students at OCCC, who continue to exhibit incredible resiliency during the pandemic. In addition to adjusting to online learning – and, in many cases, the return to in-person instruction – balancing college classes can be challenging for students who work full time or who work multiple jobs, and for those who are parents at a time when the paucity of childcare resources is extreme.
In the midst of all this, Oregon Coast Community College students have shown grit and determination in pursuit of their studies. College staff and faculty congratulate all our students for their perseverance, and today we salute those students recognized as recipients of the College's Honor Roll, Dean's List, and President's List for Winter 2022.
To be eligible, students must have completed a minimum of six graded credits during the term, and have met the GPA requirements for the given level of honors.
Honors List, 3.25-3.49 Grade Point Average
Tanaya R. Brown
Emilee J. Carpenter
Lia Clark
Sarah E. Colton
Diego B. Elizondo
Mahala E .Fisher
Timothy N. Florez Jr.
Catherine A. Forney
Robin L. Macias
Liliana Munoz-Valladolid
Delayna M. O'Daniels-Davis
Lydia Pearce
Noah S. Rislov
Maleah K .Smith
Sarah J. Smith
Jerry A. Sneed
Tristan A. Sudborough
Tirzah J. Votaw
Jennifer A. Walker
Caleb J. Williams
Dean's List, 3.5-3.74 Grade Point Average
DeeAnne R. Barnhart
Larenda J. Bennett
Yvonne K. Brown
Cristeresa Camacho Ponciano
Jo A. Davey
Gracee Esquivel
Jessica A. Eubank
Courtland R. Garrett
Tyson A. Gaylor
Jennifer l. Gomez
Morgan Hinds
Kieren A. Kangiser
Xitlali M. Mason
Liam J. McConnell
Cesar D. Mendoza Ramirez
Robert A. Miranda
Hope T. Poet
Patrick Reece
Tatiyanna J. Shroyer
Lindsay N. Silvia
Jasmine M. Sutherland
Randee Taylor
MacKayla L. Tokar
President's List, 3.75-4.0 Grade Point Average
Tessa Adamson
Kira Anderson
Josie M. Bacholl
Diana Ayllin Baltazar Gonzalez
Jessica J. Beehner
Nicholas Belleque
Sara E. Birman
Chyanna G. Blackburn
Sierra N. Block
Heather Bridges
Leah Carpenter
Michelle L. Cottrell
Savannah L. Craycraft
Cortney M. Delohery
Elizabeth Emmett
Rebekah E. Fink
Hallee K. Flatt
Sally M. Flatt
Bailey K. Golden
Olivia C. Gomez
Tasha M. Grunder
Tammy K. Harris
Jesus N. Hernandez
Nicole L. Hite
Nathaniel Hovey
Jordana S. Johnson
Shelby Johnston
Rhyan S. Kelley
Tiffany A. Kinser
Katie Kirk-Brown
Katia Kyte
Brett J. Lane JR
Rita L. Latta
Coral A. Lehrman
Michael Lewis
Eva Lichner
Joel J. Lorenzo
Nashika T. Mackey
Kamryn L. Mahlberg
Leta L. Main
Paige E. Mashman
Tayler L. McAlpine
Alyssa R. Mcclinton-Leigh
Avery Nightingale
Kaci L. Noah
Chloe S. Oyala
Robyn C. Parrish
Travis E. Payne
Estella C. Prince
Jennifer Rogge
Spencer J. Romero-Smith
Justin J. Salisbury
Jessica A. Sanders
Mary K. Schwarz
Jessica M. Smith
Nicholas J. Spangler
Franklin J. Strength
Brooke A. Thomas
McKenzie R. Thomas
Cameron C. Vasquez
Liza Walker
Jennifer Y. Walsh
Samuel W. Watson
Jade Weber
William N. Wood
Hope Yarbrough
Harmony Zelinka
Oregon Coast's Summer 2022 term begins on June 27. Many students start their academic journeys in the summer term – wrapping up one or two prerequisite courses for their planned degree program, or simply taking courses that are of particular interest.
Prospective students, and their friends and family, can learn about classes, meet with student success coaches, get information about financial aid, and take campus tours during the upcoming spring College & Career Nights, held at the Central County Campus in Newport, April 26 and May 19, and at the North County Center in Lincoln City, May 24. All events are held from 5:30 to 7 p.m.
Students interested in exploring the many offerings at Oregon Coast Community College are encouraged to apply (there is no obligation to attend after applying) and meet with a student success coach to discuss the programs and subjects offered, and how they fit with each student's own academic and career aspirations.
Learn more, and discover the full range of degree and certificate programs available at Oregon Coast Community College, at oregoncoast.edu. Follow OCCC on TikTok, Instagram, and Facebook, @occcsharks. Or, call the College at 541-867-8501.