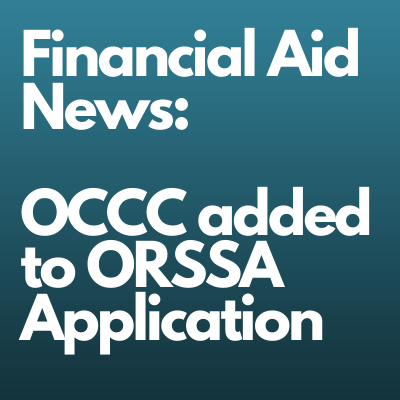 OCCC and the ORSSA
September 25, 2020
BankMobile
October 7, 2020
Welcome, My.OregonCoast: A new student portal to replace "MyOCCC"
Oregon Coast Community College secured independent accreditation in February 2020. This marks a watershed moment in the 33-year history of the school. As an independent institution, OCCC will be managing its own financial aid, streamlining this important process for students. Prior to this coming academic year, every OCCC student seeking financial aid had to do so through other accredited institutions via additional steps.
But wait – there's more! The College is in the midst of moving to a new enrollment and registration system. The system is being rolled out at this time, as OCCC and four other Oregon Community Colleges launch the program. This new, more modern platform will provide students with a friendlier, easier, more robust system that will eventually allow easy access to registration, financial aid, graduation planning, and more. The new system will replace the "SharkNet" registration system students previously accessed via "myoccc," now updated to My.OregonCoast.
---
Financial Aid Info
If you have already completed your Free Application for Federal Student Aid (FAFSA), you'll need to update the form with OCCC's new Financial Aid number.
Effective now, all current and prospective OCCC students completing their Free Application for Federal Student Aid (FAFSA) should use OCCC's new code, 042837.
For more information, call 541-867-8525, email finaid@oregoncoast.edu, or visit this website.
 As noted above, OCCC is receiving a new Financial Aid school code due to its recently having secured independent accreditation.
ORSSA Update: OCCC is now included on the list of schools of the ORSSA. Do YOU need to update your ORSSA? Click here to find out.
---
Setting up OCCC Email
Are you ready to set up your oregoncoast.edu email address? Follow the instructions on this page, and call us at 541-867-8501 with any questions.