Foundation Board Spotlight:
Billie Joe Smith
Billie Jo Smith serves on the OCCC Foundation Board, the Foundation Scholarship Committee, and was co-chair of the recent Pearls of Wisdom fundraising event which was an unprecedented success.  Here is what Billie Jo has to say.
When I was a student, I loved biology.  That was all I wanted to study.  I was fascinated by nature – plants, animals, rivers and oceans.  As a teacher I shared this love with my students. When I moved to the Oregon Coast in 1976, I was able to explore marine environments with students and teachers. Consequently, I am thrilled that OCCC has a wonderful Aquarium Science program.
I was born in Kansas City, Missouri.  After high school graduation, I enrolled in William Jewell College in Liberty, Missouri and majored in biology.  I loved science so much that I took every course.  With no additional biology courses available, I decided to pursue secondary education classes.  In retrospect, that was a good choice. I discovered a love for teaching.  I received a BA in Biology and Education and later, a MS in Biology from the University of Michigan.
I taught science and biology in Liberty High School for four years, involving students in camping and field studies.  I co-pioneered a team-teaching program which was a wonderful and creative experience.  There were great advances and support for science education in the 1960's.
Through the years, it was my pleasure to teach in Minnesota, Washington, D.C., and back to Minnesota where my focus was curriculum development and professional  development for teachers.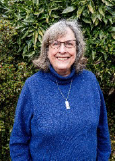 My husband, Tom, had attended OSU. It was our dream to move to Oregon.  In June of 1976 we headed to our new home on the Oregon Coast.  We landed south of Yachats where we had gardens, milk goats, rabbits, chickens, three pigs, and a steer.
My first job in Lincoln County was part-time science, social studies and music at the Yachats Elementary School.  Fortunately, I could play the piano and had participated in singing groups in high school.
The next year I began working as a Curriculum Resource Teacher through the Lincoln County School District (LCSD) Instructional Media Center.  Eventually, a real curriculum department was initiated, and I worked with curriculum and professional development for teachers for 18 years. During my experience with LCSD, I had an opportunity to work with the Hatfield Marine Science Center and the Umatilla II to organize boat trips for studies in Yaquina Bay and the ocean.
I was also able to lead science curriculum workshops for the Oregon Department of Education and taught courses in educational methods and cooperative learning for LCSD and other school districts.
In 1986, through an International Teaching Fellowship exchange, I taught science at Queenscliff Secondary College Australia. We made life-long friends and the school opened my eyes to even more ways to make education meaningful to students.
In 1993, I decided to return to high school science teaching.  I taught at Toledo High School until my retirement in 2000.  While there, I served as a NOAA Teacher at Sea; flew on the NASA Kuiper Airborne Observatory; and received a Murdock Fellowship to work with John Chapman at the Hatfield Marine Science Center.
When I retired, after 37 years as a biologist and educator, I was not ready to stop contributing.  I served on the Lincoln County School District Board of Directors; was Chair of the Central Coast Chapter of Stand for Children, served two terms as Mayor for the City of Toledo; and currently participate in the Mid-Coast Water Planning Partnership, Friends of the Greater Toledo Pool, and the OCCC Foundation Board.
Working with OCCC is the most rewarding part of my life right now.  The opportunities the college offers to its variety of students is amazing.  High school students can begin their college work during their senior year, and students can live at home and take two years of college work here, transferring to a four-year college or university. But most importantly, OCCC offers job and career training that is important to all ages and meets the needs of our communities. The Aquarium Science, Nursing, Welding, Early Childhood Education, and Teaching programs prepare students for jobs readily available right here in Lincoln County and beyond.
The OCCC average student is about 25 years old with kids and one or two jobs.  Most are struggling to "make ends meet" and studying to secure a better future. They need our help!  Our communities need our help! The OCCC Foundation is here to provide that assistance.
Since its inception in 2000, the Foundation has provided support to OCCC programs and, most importantly scholarships for students. I'm so glad that I can serve on the scholarship committee. Last year, more than $80,000 in scholarships were provided.  We hope to be able to give more this year, as the need is even greater. With scholarships as a result of the Foundation's very successful Pearls of Wisdom event our students can succeed, but we need your help. Please consider donating to the OCCC Foundation.  You will truly be enhancing the quality of life for everyone in our communities.
Thank you.