OCCC and the Oregon NASA Space Grant Consortium
OCCC is a proud member of the Oregon NASA Space Grant Consortium (OSGC), a statewide network of colleges, universities, and science professionals that promote STEM (science, technology, engineering, and math) education while recruiting and training NASA's next diverse workforce. OSGC is part of the National Space Grant College and Fellowship Program.
BREAKING NEWS:
Join a NASA webinar on "Women in STEM", Tuesday, Nov. 9 at 2pm. Click for more info and link to join.
Ever since 2016, when OCCC joined the Consortium, OCCC students have been eligible for exciting OSGC opportunities such as scholarships, fellowships, and internships at NASA research centers. In particular, OCCC students might be interested in the $3,000 STARR award (Student Academic Research Review) (applications due every spring term) and the SCORE program (STEM Community College Opportunity for Research Experience) (applications due every fall term).
If you have questions, please contact Matthew Fisher, OCCC's representative to the OGSC.
How have OCCC students taken advantage of OSGC opportunities? Check out the following examples:
Project Stardust
OCCC student Haley Dean received an OSGC SCORE award in 2020 to conduct research that she called Project Stardust. Here, Haley describes her research:
"My research was designed to develop and innovate successful techniques for the hunting and collection of microscopic planetesimals known as micrometeorites, in the dynamic and mercurial environments of the Oregon Coast.
Seven sites were selected along the Oregon Coast to collect samples of aggregate with neodymium rare earth magnets.  These magnets were used to pick up materials that contain iron, nickel, iridium, or other rare magnetized material with the idea that they will weed out potential terrestrial imposters. All micrometeorite candidates were mailed to NASA's Johnson Space Center, to be imaged under scanning electron microscope (SEM) for final verification.
This research project was highly successful. Several micrometeorite candidates were found. Out of 28, three were optically verified by NASA, but still require SEM confirmation. Of those candidates, two are green glass (vitreous) micrometeorites and one faceted cryptocrystalline MM (aka "Turtle-back")
It has been an honor to contribute to this field and refine techniques to successfully hunt for those elusive little minxes called micrometeorites. I have partnered with OSU and OCCC to continue supplying NASA with micrometeorite candidates."
SOAR (Scientific Observation and Atmospheric Research).
Thanks to special support from OSGC, a team of OCCC students captured atmospheric data during the 2017 total solar eclipse. The team, which called their project SOAR, released a number of high-altitude weather balloons to capture real-time data during the eclipse. The project was part of a larger scientific effort to documents atmospheric changes that occur during solar eclipses. Check out the SOAR project website to read blog entries from the students involved.
About OSGC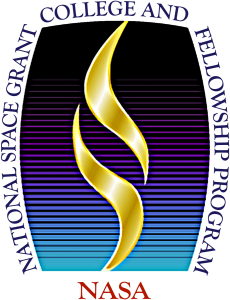 Oregon NASA Space Grant Consortium (OSGC) is a NASA-supported organization that supports STEM education at member colleges & universities, which has included OCCC since 2016. OSGC provides scholarships, research opportunities, internships at NASA facilities, and more. If you or students want more information, visit the website or contact Matthew Fisher, OCCC campus representative to the OSGC.