Pearls Sponsor:
Kathryn Heater & Diamonds by the Sea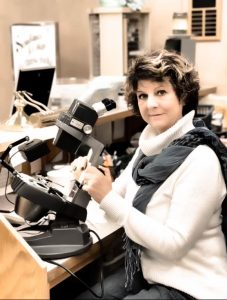 The OCCC Foundation's Pearls of Wisdom fundraising event provides the perfect opportunity to acknowledge and thank an un-sung hero who donates year after year.  It was my privilege to interview Kathryn Heater, owner of Diamonds by the Sea, one of Lincoln County's oldest family-owned businesses.
The following are Kathryn's answers to questions asked of her. 
My Mom was born right here in Toledo and so was I.  In fact, four generations of our family lived in the Lincoln County area.
After World War II, Dad attended the  Oregon Institute of Technology and became a watch maker.  My mom had eight sisters.  The story is told that Grandma did not want Mom to move away after marriage so she brokered  a jewelry store deal for Mom and Dad in downtown Toledo and founded Smith's Jewelers.  That was in 1953, nearly 70 years ago.
Lincoln County is a very special place.  I call it a "village" where residents care, give and help each other.  That is what you do.  The community is small so we become very connected.
The jewelry business is in my blood.  It is part of who I am, but Dad told me that being a watch maker meant sitting at a bench for fifty years.  He didn't want that for me.  So, in 1982, I attended the Gemological Institute of America in Santa Monica, CA and became a Graduate GIA Gemologist which means I  appraise, buy jewelry and own a jewelry business. I spend a lot of time looking at gems through a microscope.  I sat down as an appraiser and haven't gotten up for forty years.  "Thanks Dad".
Toledo was named the Lincoln County seat in 1896. In 1964, when the County seat moved from Toledo to Newport, we began thinking about moving Smith's Jewelers to Newport and opened in 1978 with a second store opening in Lincoln City in 1984.
None of my siblings inherited the love of the jewelry business.  To me, it is the best job in the world.  I am part of birthdays, anniversaries, weddings and deaths.  Even in times of stress or pain, I am privileged to be part of the lives of neighbors and friends as I re-work or repair pieces that represent memorable moments in their lives.  I am always respectful of the sentimentality and see the trust given to me as the greatest gift.
Mom chose the name "Diamonds by the Sea." in 1977.  We were looking for a name that was more romantic.  The corporate name is "H & B Diamonds by the Sea" for my parents, Harold and Betty.
I believe in karma and the importance of giving back or  putting back better than I found it.  The Otis fires last year are a perfect example giving back to our neighbor. Customers came in with burned and melted jewelry. We re-worked and refurbished at no charge and replaced at heavily discounted prices for those who lost so much.
For the past ten years, before there was a Pearls of Wisdom event, the OCCC Foundation's fundraiser was called Oyster Cloister.  I started donating a piece of jewelry as a Gift-in-Kind and continued with that tradition selecting a piece of jewelry with a pearl theme.  I try to select something that will appeal to a large audience and is tasteful and beautiful.
Education was always a priority in my family.  We have three daughters and three grandchildren: all are very productive, with a great work ethic and equally high expectations.  When they were in school, just as when I was in school, learning was their job.
To OCCC students, never stop learning whether in school or in the school of life.  Stay with it.
Donors, or potential donors, remember that educators are the most overwhelmed, under paid, under-valued members of our community.  Your donations help keep education in Lincoln County strong and relevant.   Just do it!  Just donate and pay back for all that you have received from your village.
Thank you, Kathy, and thank you for all you do for OCCC and the community.  It does take a village.
Look for the Diamonds by the Sea till contribution to the 4th Annual Pearls of Wisdom on March 5, 2022.