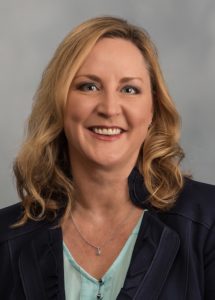 Foundation Board Member
Dr. Lesley Ogden
Lesley Ogden, MD, serves as chief executive officer for the two Samaritan Health Services critical access hospitals in Lincoln County: Samaritan Pacific Communities Hospital in Newport and Samaritan North Lincoln Hospital in Lincoln City. With all she has on her plate, it is with deep gratitude that she finds time to also serve on the OCCC Foundation Board and has done so since 2017. It is my honor to introduce Dr. Lesley Ogden.
I was born in Savannah, Georgia, but was so young when we moved to Lake City, Florida, that I say I am a native Floridian. While in high school in Lake City, I attended the local community college, Florida Gateway College (then named Lake City Community College) and earned college credits. This gave me a real head start when I later enrolled in a four-year college. After graduation from high school, I was offered a full scholarship to Troy State University in Alabama where I earned a Bachelor of Science degree in Marketing.
After working in educational computer sales for a few years, I began working at The Citadel, the Military College of South Carolina, in the Information Technology Services department. I oversaw computer labs and multimedia support for the students and faculty. Working at The Citadel during the day allowed me to attend classes in the evening where I received my MBA degree.
Subsequently, I was offered a one-year contract in Antarctica working on the network and computers at Amundsen-Scott South Pole Station. I met my husband there. He was originally from San Diego so we both had in common having come from warm climates to the frigid cold.
When my contract ended, I wanted to go back to school and was really interested in the field of medicine. I took undergraduate science courses at The University of Charleston (then the College of Charleston) and achieved a high enough MCAT score to be admitted to The Medical University of South Carolina. After four years of study, I graduated with my medical degree.
William and I married and aimed for positions on the West Coast, closer to his prior stomping grounds. I interviewed at residency programs in almost every western state, but my first pick was Oregon Health & Science University in Portland where I matched and completed a 3-year residency in Emergency Medicine.
When deciding where to move permanently, I was most attracted to a rural environment. I accepted an attending physician position in the Emergency Department at Samaritan North Lincoln Hospital in Lincoln City, knowing that the hospital had a goal to create an Emergency Medicine Department staffed solely by residency trained, board-certified Emergency Medicine physicians – something you don't often find in rural ERs. I worked there as an Emergency Medicine physician from 2006 to 2016.
In 2013, I was asked to help part time in hospital operations and cut back on clinical work, so I served as the hospital's chief operations officer until 2015 when I was named CEO of Samaritan North Lincoln Hospital. Shortly thereafter in 2017, I became CEO at Samaritan Pacific Communities Hospital in Newport after the previous CEO, David Bigelow, retired. While holding these administrative positions, I continued working clinically as an urgent care physician until oversight of building two replacement hospitals and running the existing ones while caring for patients became too challenging.
Looking back on my career, I have to say that I was lucky enough to have some fantastic mentors throughout my life, both men and women. I think the crowning achievement to my career has been the building of the two new Samaritan hospitals in Lincoln County.
In 2017, I was invited to become a member of the OCCC Foundation Board. This was particularly enticing to me because of the important partnership that exists between Samaritan and OCCC. Easily 60% of all OCCC nursing students with either a Practical Nursing Certificate or Associate of Applied Science Degree find employment within the Samaritan family, locally in Newport and Lincoln City, or at our other hospitals and clinics in Albany, Corvallis and Lebanon.
I believe that OCCC students have a pathway to reach their goals right in their own backyard. OCCC is a special place that can make dreams come true. For those of you who donate to the college through the OCCC Foundation, there is no better way to spend your money than on the future of our community.
As a footnote, under Dr. Ogden's leadership, both hospitals were entirely transformed recently, with a new hospital building in Lincoln City and new and renovated buildings and hospital campus in
Newport. Both hospitals are part of Samaritan Health Services, a not-for-profit network of hospitals, clinics and health services caring for more than 250,000 residents in the mid-Willamette Valley and central Oregon Coast.
Lesley is an active Rotarian in Lincoln City and served as club president in 2016-2017. She is also on the board of directors of the Economic Development Alliance of Lincoln County.
Thank you, Lesley, and thank you for all you do for the community and for serving on the OCCC Foundation Board!