Spotlight on Employee Monthly Donor – Wendy Ludwig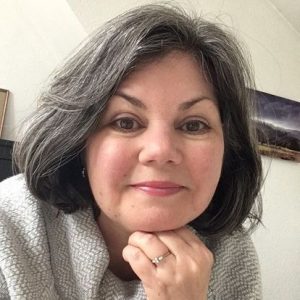 Wendy pops in and out of the Community Engagement Suite at OCCC far too infrequently as far as I am concerned.  She brightens any day with her infectious smile and is a delight to share offices.  For at least the past two years, Wendy has been one of the volunteers at Pearls and donates monthly to OCCC.  Of course, I wanted to know her better.  So, I asked and she explained.
I was born in Utah but moved to California at an early age.  I went to High School in Salinas, CA.  Salinas is the county seat of Monterey County, with a population of 163,542 according to the 2020 Census and boasts of being "the lettuce capital of the world."   I still love fresh vegetables!
Growing up, I visited family in Oregon frequently. After high school, I chose to attend Linfield College in McMinnville, OR as an accounting major. I started my career as a CPA in San Francisco.
In 2016, I "retired" from my corporate finance career in the Bay Area, and I needed a change of scenery.  I love books and music, long walks, and traveling.  What better place to walk than along the Oregon Coast with its wonderful scenery!  And great people too.
When I moved to Lincoln County, I was considering starting a financial coaching business, but I didn't know too much yet about the business environment here.   So, I visited the Small Business Development Center (SBDC) looking for advice. At the time, Craig Grant, the advisor I met with, was looking toward retirement and a move away from the area. He explained how much he loved his work, and he thought I should consider a role as a small business advisor. Craig introduced me to Dave Price in the spring of 2018. I started working with clients shortly after that.
I'm passionate about financial literacy and supporting entrepreneurs through my work with the Small Business Development Center.  I really enjoy meeting new people, learning about their goals, and doing what I can to help them succeed.
COVID has been very difficult for small business owners; I was fortunate to be in a position to help many of them secure emergency funding. Now, I'm back to working mostly with new startups, which is great fun. I'm also helping businesses plan for growth, solve problems, and I have helped some owners prepare for a purchase or sale transaction.
I also volunteer as a Court Appointed Special Advocate (CASA) where I advocate in court for abused and neglected kids who need safe and permanent homes.
I'm single, and I have one very spoiled rescue dog, Charlie.  My two adult daughters live in Southern California.
As I think of OCCC students, my advice is this:  your education is just that – YOURS!  Take full advantage of the opportunities, put your head and your heart into it, and don't be shy about asking for help. Be curious! Get to know your instructors and your fellow students. You'll have more fun, and you'll graduate with the best chance for success.
To my fellow OCCC employees and donors, I would like to remind you that students face so many challenges outside the classroom these days. I support the college because all students should have access to quality education. Our community needs citizens who are motivated and prepared to step up and help solve today's problems.
I hope you'll join me donating. Every gift makes a difference.
Thank you, Wendy.  You certainly DO make a difference!  No gift is too small; each makes a lasting impression.
To join Wendy in a monthly Employee Giving plan, email Andi at andrea.spirtos@oregoncoast.edu.