Preventative measures this spring could ensure a prosperous, healthy summer
Lincoln County small businesses can take steps to help protect the local economy
Commentary | By Dave Price, Director, OCCC Small Business Development Center
As COVID-19, the Novel Coronavirus, sends shockwaves through the stock market and wreaks havoc on various international vacation spots, we still see plenty of online commentary in Lincoln County laughing off what some see as overblown rhetoric and hyperbole about the virus.
Skepticism is understandable, as we have had our share of false alarms before.
As of March 9, there were zero confirmed cases reported in Lincoln County, but state officials suggest the virus may already be present in most or all Oregon counties, but going unreported due to the relatively few tests that have been administered to date.
Regardless, it's vitally important that Lincoln County businesses make preventative measures a key priority until this crisis wanes. Hand-sanitizing stations at the entrance of businesses, signage in restrooms about proper hand-washing protocol, enhanced cleaning of surfaces, and working with staff to encourage sick employees to stay home until being fever-free for 24 hours are just a few easy steps businesses can take to show visitors they're safe here, and that we take their concerns seriously.
Whether or not you're afraid of the Coronavirus or consider it "just another form of the flu" doesn't matter, in the scheme of things. What matters is public opinion, as well as corporate and government policies related to human safety.
It may not be possible for Lincoln County to escape the limelight and avoid any cases, but we should try. It's the right thing to do for the health of our community and visitors, as well as the economic vitality of small businesses in the county.
At the Small Business Development Center, it's our job to always be looking out for the best interests of Lincoln County's small businesses. Encouraging them to add to their workload by ramping-up cleaning routines and buying sanitizing supplies might sound more costly than helpful. But, we believe the timing of this outbreak is such that one or more confirmed cases either reported here or contracted here could very possibly have profound and dire consequences when it comes to our summer tourism season. If thousands of would-be visitors chose other destinations due to local cases of the Coronavirus, virtually every small business in the county would feel the impact, as would thousands of local families who depend on summer jobs – often two, three, or more positions – to meet their annual income needs.
There's another side to this coin. It could be that the risks and uncertainties in planning overseas travel right now will persuade many of those vacationers to opt for destinations closer to home – destinations like the stunning place we call home, here in Lincoln County. Such conditions could result in this being one of our best summers ever, rather than one of our bleakest. But we have to take steps to ensure that Lincoln County is seen as a safe, secure choice for those travelers.
In the wintertime, Lincoln County's remote location served as an advantage as cases of the Coronavirus popped up in metropolitan areas and in neighboring states. Now, though, Spring Break and the sunny season that follows it will mean more visitors from all over will descend on our communities, bringing with them money and sunscreen, along with seasonal colds and viruses. Let's do our best to welcome these folks and provide them with ample ways to stay safe – and to help ourselves and our neighbors to avoid infection, and the profound county-wide economic implications that could accompany it.
For more information, including up-to-the-minute updates and links to posters and other helpful resources, visit the Lincoln County Health & Human Services Coronavirus page, at www.co.lincoln.or.us/hhs/page/2019-novel-coronavirus.
Small businesses may also wish to review the Centers for Disease Control's online resource for small businesses, www.cdc.gov/coronavirus/2019-ncov/community/guidance-business-response.html.
Lincoln County business owners, and anyone thinking of starting a business here, can always schedule a free, confidential, one-on-one business advising appointment with one of the SBDC's advisors any time. Learn more and schedule your appointment any time, here.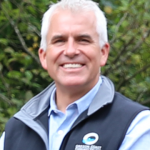 Dave Price
Vice President Engagement and Entrepreneurship
Administration, College Marketing, Foundation, North Center, Small Business Development Center (SBDC)