Lincoln County small businesses invited to govt. contracting workshop in Tillamook
Saturday, Nov. 6 event designed to help coastal firms take advantage of new HUBZone certifications – and other SBA small business designations – to help secure lucrative government contracts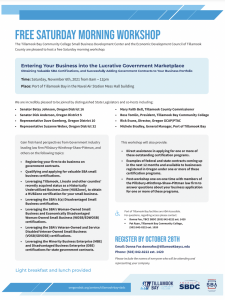 The Tillamook Bay Community College Small Business Development Center and the Economic Development Council of Tillamook County are hosting a workshop Saturday, Nov. 6, to help Lincoln and Tillamook county businesses like yours obtain valuable SBA certifications – which may help you add government contracts to your business portfolio.
Government contracts can boost revenue for all sorts of firms – from landscapers to caterers, from hoteliers to builders, and everyone in-between. The workshop will be held from 8am – 12pm at the Port of Tillamook Bay in the Naval Air Station Mess Hall building.
This workshop will provide first-hand perspectives, information, and lessons learned from Government industry leading law firm
Pillsbury-Winthrop-Shaw-Pittman
and others on the following topics:
Registering your firm to do business on government contracts.
Qualifying and applying for valuable Small Business Administration small business certifications.
Leveraging Tillamook, Lincoln and other Oregon Counties' recently acquired status as a Historically Underutilized Business Zone (HUBZone) designated area to obtain a HUBZone certification for your small business.
Acquiring and leveraging the SBA's 8(a) Disadvantaged Small Business certification.
Acquiring and leveraging the SBA's Woman-Owned Small Business and Economically Disadvantaged Woman-Owned Small Business (WOSB/EDWOSB) certifications.
Acquiring and leveraging the SBA's Veteran-Owned and Service Disabled Veteran-Owned Small Business (VOSB/SDVOSB) certifications.
Acquiring and leveraging the Minority Business Enterprise (MBE) and Disadvantaged Business Enterprise (DBE) certifications for state government contracts.
This workshop will also provide:
Direct assistance to attendees interested in starting the application process to one or more of these certification programs.
Examples and a discussion of federal and state contracts coming up in the next 12 months and available to businesses registered in Oregon under one or more of these powerful small business certification programs.
Post-workshop 1-on-1 time with members of the Pillsbury-Winthrop-Shaw-Pittman law firm to review and/or answer questions about your business application for one or more of the SBA small business certification programs.
Additional Background
The purpose of this workshop is to assist small businesses who may wish to perform work in the public sector/government contracting marketplace.  The SBA recently expanded the Historically Underutilized Business Zone (HUBZone) program to rural counties.
As a result, Tillamook and Lincoln Counties received the HUBZone designation, enabling small businesses with a central location and 35% or more of their staff (not including project site-based employees) working and living in the HUBZone to qualify for and receive this powerful small business classification.
Additionally, and in light of the growing emphasis on supporting underserved communities, the SBA and States have recently placed even more emphasis on setting aside work contracts at the federal, state, and local level for small businesses who qualify for the SBA's 8(a) Minority-owned and Small Disadvantaged Business (SDB) certifications, as well as the State's Disadvantaged Business Enterprise (DBE) program.
The workshop will combine the information and practical application with help from Rick Evans (of Oregon's Government Contracting Assistance Program – GCQP) and a law firm with extensive experience helping small businesses work through the often arduous process of getting certified in SBA and state-level small business programs, while also presenting material which will help coastal small businesses prepare to add or expand their business in the public sector.  The workshop will discuss the SBIR, STTR, and SBA Mentor Protégé programs while also touching on lessons learned in successfully growing a small business based along the Oregon coast while adding government contract work outside the area.
State Senators Betsy Johnson (D, Scappoose) and Dick Anderson (R, Lincoln City), will be in attendance, as will State Representatives David Gomberg (D, Otis) and Suzanne Weber (R, Tillamook). Again, the event is free, including a light breakfast and lunch.
How to register
A light breakfast and lunch will be provided to all attendees. Please register by October 28
via email to Donna Fox
of the TBCC SBDC, or via phone at 503-842-8222 ext. 1420. Please include the names of everyone who will be attending and representing your company.