Amidst a backdrop of ferns and firs, a little potted cactus sits on a windowsill at Oregon Coast Community College's Central County Campus in Newport. It's there to help ease the transition for Oscar Juárez as he acclimates to his new environment. Born and raised in El Paso, Texas, Oscar moved to Newport early in the year to head the brand-new Early Childhood Education program at the college, and though he has no regrets, he admits it has been an adjustment.
"I definitely miss the climate, that's why I have this little guy with me," he said, tilting his head toward the colorful pot. "But Newport actually reminds me of home in lots of other ways. Even though I came from a big city, we have a small town feel and I like that there is that small town feel here too. Also, one of my daughters, Clara, came out with me for the interview and she liked it here, so that sealed it."
Oscar is the son of Jesús and María G. Juárez who were immigrants from Mexico.  He has five siblings, and they are first-generation American. Oscar and his wife Terry have five children. Clara, 21, and Yasmin, 20, are currently college students.  Their other three children, Jesús, 17, Oscar B., 13, and Alicia, 10, are still in school, so the family decided that he would make the move alone until the end of the current term, with the family due to join him in Newport in June or July.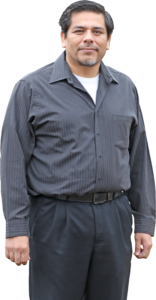 The early education of an early educator
Though Oscar originally went to college to study chemistry, a conversation with his old high school chemistry teacher caused him to change lanes when he was just two semesters shy of graduating with a bachelor's degree in chemistry.
"He told me he thought I would enjoy teaching better than being stuck in a lab," Oscar said. "At that time, my family had started to grow and my priorities were changing, so instead of finishing school I looked for work and eventually ended up at the Head Start program."
He found the work very fulfilling, but a peer at Head Start encouraged him to go back and finish his bachelor's, which he ultimately did at New Mexico State University.
Still not satisfied that he had gone as far as he wanted to go with his educational goals, he applied for a graduate program at the University of Texas at El Paso.
"I was told that I was accepted on the first day classes started, so I had to get everything like my student ID, financial aid, and books taken care of really fast," he said. "But even with that rough beginning, I finished, so I was happy, and it has made me more sympathetic to what many students have to go through to get everything they need to start a new program."
After graduating with a master's in Curriculum and Instruction, Oscar continued to work for Head Start.
"I continued with Head Start because they were the first ones to give me an opportunity," he said. "But I also found that I love working with kids that come from low-income families; that's really what kept me there."
Growing teachers
The OCCC Early Childhood Education Pathway Certificate program will prepare students to work at places like Head Start, become family child care providers and child care teachers, or will get them on their way toward a teaching degree if that is the direction they choose to take.
"Licensing rules require that all people who want to teach and work with infants or in a preschool setting need to have a minimum certificate in Early Childhood Education," said Linda Mollino, OCCC's Director of Career and Technical Educational programs. "There are some people that want to work in the field but not as teachers, or they may already be working in the field and just want to show proof that they have some training but don't necessarily plan on earning a two- or four-year degree."
Partial funding for the new program, which is based on the one at Portland Community College, came from a grant from the Meyer Memorial Trust.
"We addressed it as a rural education project with two components: early childhood and K-12," Mollino said. "The goal is to get more people into early childhood education in Lincoln County and to keep them here, because that's something we have a need for."
The way the program works, students can actually get in to the early education program early:
"The program only launched this winter, but we already have high school students who are interested in early childhood education," Mollino said. "Students can take dual credit classes; meaning that they can be taking classes with us or at the high school, and get credit at both for the same class. That way they can be almost finished with their certificate by the time they graduate. It also gives them an early taste of what college will be like."
Early Childhood Education program participants also have other opportunities to see what the future may look like through a partnership that gives them the chance to volunteer at the Lincoln County School District.
Even more education pathways
Mollino and other OCCC staff hope that the opportunities afforded at the coast will help fill the need for local grade and high school teachers as well.
Through a new rural teacher education program, also funded by Meyer Memorial Trust, OCCC is working with the Lincoln County School District to provide local residents with the chance to earn a four-year teaching degree right here at home – excepting about nine months studying in Monmouth at Western Oregon University – and to help them find permanent teaching positions right here in Lincoln County after they complete their degrees.
"They can take their general education requirements here and earn an associate's degree, then finish their four-year degree at Western Oregon University, and then come back here for their practicum," she said. "Basically, what we are doing is growing teachers. As a career choice, teachers are in high demand, and we always try to provide opportunities for job security."
Community Liaising
Accepting the Early Childhood Education Program position was made slightly harder for Oscar by a competing offer from a different employer at about the same time, but ultimately, he went with his heart.
"My alma mater NMSU called me with the same type of position at almost the exact same time as I heard from OCCC," he said. "I felt this was a community that needed me more, and now that I've been here for a bit, I feel I made the right choice. I have a lot of experience working with low-income families, and as a Hispanic person, I've heard from people that said they were excited to see someone with their skin color that can speak their language, and others saying that seeing me in this job gives them hope."
According to Mollino, Oscar's educational background, work experience at Head Start, and his cultural background were large factors contributing to his appointment.
"Part of Oscar's role is representing the program in all of the different communities we have here in Lincoln County," she said. "We feel we made the perfect choice."
Whether the windowsill that holds his cactus is here on the Oregon Coast, or somewhere much warmer, what gets Oscar Juárez springing out of bed in the morning is the passion he has for his work.
"The most satisfaction I've ever had was walking down a hallway where all the kids knew who I was and were calling out my name," he said. "I felt like a rock star. Parents of kids who weren't even in my classes would say that they heard about me more than about their kid's regular teachers. That's been my greatest joy, and now I get to help grow a program that will give other people the same chance to find that joy."
Learn more about OCCC's Early Childhood Education program here, or by calling 541-867-8501. Oregon Coast Community College was founded in 1987 and serves Lincoln County with facilities in Waldport, Lincoln City, and Newport.