Returning to Campus. Safely.
Updated September 2021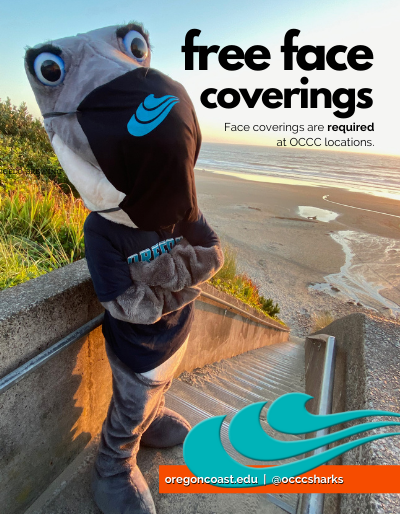 • Face coverings required at OCCC locations
• Read our Safe Return To Campus Plan
• Free face coverings available at entrances
• Find a vaccination clinic close to you
For the Fall 2021 term, Oregon Coast Community College will be just as focused on the health and wellbeing of our students and employees as ever. Our amazing Facilities & Safety crew will maintain our robust and rigorous standard cleaning protocols, as they did before the pandemic struck. The College is following guidance from the State of Oregon, the Centers for Disease Control, and local health agencies, and OCCC continues to encourage visitors to wash their hands often, to choose another time to visit if they feel ill, and to help protect the safety and comfort of those around them.
As detailed in the schedule, a variety of online courses are offered for the Fall term in addition to on-site sections.
OCCC has hosted and widely promoted vaccination clinics at its Newport and Lincoln City locations, and encourages staff and students to be vaccinated. The only vaccine requirements for students at Oregon Coast Community College pertain to students who will be working practicums in the Allied Health or Early Childhood Education departments. Those requirements are set by the facilities where the students must conduct their practicum work.
Classroom capacities for the Fall term will return to normal, per guidance from the Oregon Health Authority. Throughout the Fall term and the entire academic year, complimentary face coverings and cleaning supplies will be available to students and employees, at the entrance to each OCCC building, as noted above. The community at large is also invited back to the College's facilities, and OCCC is again reserving Community Rooms and other meeting room spaces for local clubs and organizations seeking meeting places. A Room Reservation form, and information on rental rates etc., can be found here.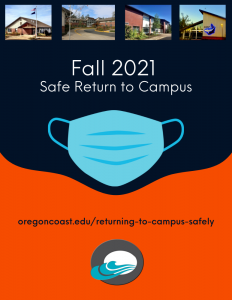 As we have all learned over the past year, this situation is fluid and changes to statewide rules and guidance, as well as College policies and procedures, may change with little or no advance notice. Stay tuned for updates. Click here for the latest local vaccination clinics and information.
If you have questions or concerns about safety at Oregon Coast Community College, we're here to help. Contact us.